This is an archived article and the information in the article may be outdated. Please look at the time stamp on the story to see when it was last updated.
SAN DIEGO — A storm from the north brought rain, strong winds and colder temperatures to San Diego County Monday morning.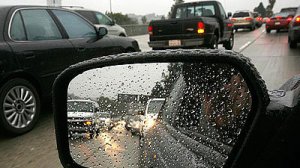 "A low pressure system developing over southwestern British Columbia will move southward through the western states Sunday and today, then eastward through the Great Basin and Rockies Tuesday and Wednesday," according to the National Weather Service. "The main impacts for extreme Southwest California are expected for late (Sunday) through early Tuesday."
The agency said rainfall would gradually spread southward, with the main period of more significant precipitation along and west of the mountains late this afternoon and evening. Rainfall amounts were expected to range from up to a third of an inch near the coast to an inch or two in the mountains.
"Bands of heavier showers could cause local mud and debris flows in recently burned areas, mainly this evening," an NWS advisory said.
Winds from the storm were expected to be strongest in the mountains and deserts. A high wind warning was in effect until 8 a.m. Tuesday for the mountains and deserts. A high wind warning means hazardous sustained winds of at least 40 miles per hour or gusts of 58 mph or greater are expected or occurring.
In issuing the warning, the weather service said winds would be strongest and most widespread today, especially near mountain ridges, along desert mountain slopes and into adjacent desert areas.
"The winds will make driving difficult, especially for motorists with high profile vehicles," an NWS advisory said. "Watch for broken tree limbs."
Hazardous winds were also expected off the coast of San Diego County today, where a small craft advisory was scheduled to be in effect from 6 a.m. through this evening. During the advisory period, sustained west winds of 15 to 20 knots and gusts of 20 to 25 knots were expected, along with four to six-foot seas with steep waves.
"Inexperienced marines, especially those operating smaller vessels should avoid navigating in these conditions," an NWS advisory said.
Temperatures throughout the county today were expected to be 10 to 15 degrees below average for the time of year, meaning they'd be in the upper 50s to mid-60s in coastal areas and valleys, 30s and 40s in the mountains, 50s in the upper deserts and 70s in the lower deserts.
According to the weather service, the snow level should lower to 5,000 to 5,500 feet tonight into early Tuesday, with three to six inches of snowfall possible above 5,500 feet.