This is an archived article and the information in the article may be outdated. Please look at the time stamp on the story to see when it was last updated.
SAN DIEGO – Former Chargers fan Danny Lawrence wrote a letter to San Diego City Councilman Chris Cate asking what it would take to change the name of Charger Boulevard in the Clairemont neighborhood.
"I was driving by and I saw Charger Boulevard. Why are we honoring a team has no loyalty to San Diego whatsoever," said Lawrence. "My opinion may mean nothing, but I just kind of wanted to voice my opinion about it."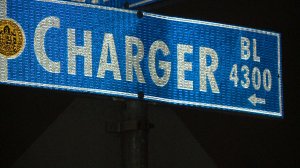 Cate's office and city staff researched the issue and found no correlation to Charger Boulevard being named after the Chargers.
"The renaming of public streets in the City of San Diego must adhere to the requirements laid out in the Municipal Code and requires the approval of City Engineers.

Upon the approval of the respective community to renaming the street, a petition must then be circulated to all property owners and tenants who would be affected by the street name change. At least 25% of them must be in support of the proposed change."
In the case of Charger Boulevard, three households would need to sign a petition since there are 12 homes on the street.
Lawrence isn't one of those homeowners, he actually lives in Bay Terraces.
"It's just a loyalty issue, I mean you're here for that many years and you just leave for funding?" said Lawrence.
Jim Gilliam has lived on the street for 3 years and he's always found it kind of fun.
"I've been here off and on in San Diego since 1983, so I just figured it's kind of special," said Gilliam.
Gilliam said he understands some fans may still be feeling the sting of the Chargers move to Los Angeles, but a change to Charger Boulevard means work for him and his neighbors.
"It will be a lot of calling people and changing things," said Gilliam.
Gilliam said he's not necessarily opposed to it, but Charger Boulevard never meant that much to him in the first place.
"Well considering the fact I'm a Chiefs fan," laughed Gilliam.