This is an archived article and the information in the article may be outdated. Please look at the time stamp on the story to see when it was last updated.
LA MESA, Calif. – Gunfire erupted Monday at a motel while agents with the U.S. Marshals Service were trying to arrest a fugitive, prompting a nearly six-hour standoff that ended when the man was found dead.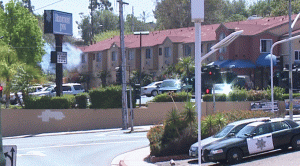 The initial shooting occurred in the 4200 block of Spring Street in La Mesa near the intersection of State Routes 94 and 125 about 10 a.m., after which the suspect holed up in a room at the lodge along with a woman and refused to surrender, police Lt. Matt Nicholass told reporters.
Officers evacuated the building, blocked off surrounding traffic lanes and called in a sheriff's SWAT team to try to capture the suspect, whose identity was not immediately available.
About 2:30 p.m., officers escorted the woman away from the motel.
Roughly an hour later, officers entered the room and found the suspect dead of an apparent gunshot wound to the head, Nicholass said.