This is an archived article and the information in the article may be outdated. Please look at the time stamp on the story to see when it was last updated.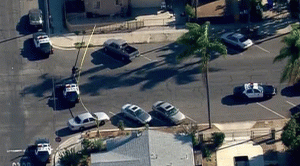 SAN DIEGO — Two men were in custody Wednesday following a shooting in Logan Heights that sent a 40-year-old to the hospital with a non-life threatening gunshot wound, police said.
Officers were called to investigate a shooting in the 2200 block of Harrison Avenue about 4:45 p.m. Wednesday, according to San Diego police Officer Dino Delimitros. Once there, they found the victim and learned that he knew the shooter, who had run into a nearby house with another man, he said.
The motive was under investigation.
Earlier reports about a standoff between police and the suspects were exaggerated, according to Delimitros, who said it took officers a little bit of time to gather information and for the suspects to come out.
The alleged shooter and a second man were taken into custody within an hour of the shooting, he said. It was not immediately clear what charges each might face.