This is an archived article and the information in the article may be outdated. Please look at the time stamp on the story to see when it was last updated.
EL CAJON, Calif. – A police officer was injured Monday when a suspected shoplifter punched him in the face in an El Cajon fast food restaurant.
The incident happened around 10 a.m.  in the parking lot of a KFC restaurant at 724 Fletcher Parkway.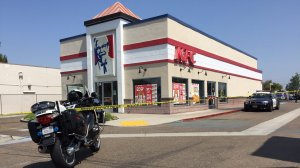 James Garza, an employee at a nearby Dollar Tree store, said he and the assistant manager of the store Kevin Rivera, followed a man in the store who they suspected was shoplifting.  They followed the suspect out of the store to the KFC and watched an El Cajon police officer approach the man.
The officer made contact with the suspect, who was sitting down, Garza said. As the two were talking, the suspect became increasingly agitated until he punched the officer in the face, Garza said.
"The cop showed up and then the cop started asking him typical questions and then the guy tried to get up  and then the cop said no, just sit down. Sit down, and that's when he started getting aggressive and that's when everything started happening. He started fighting the cop and then the cop got knocked out and he just walked out," said Dollar Tree Assistant Manager Kevin Rivera.
Rivera and Garza then followed the suspect out of the KFC and pointed responding officers in his direction.
"He just kept walking and ignoring the cops so that's when they tased him," said Rivera.
Rivera says the suspect ran away and responding officers used a Taser to subdue him near the scene. He was then taken into custody.
The officer who was punched was taken to the hospital with a head injury, officials said.  The officer is a 28 year veteran of the police department.