This is an archived article and the information in the article may be outdated. Please look at the time stamp on the story to see when it was last updated.
NATIONAL CITY, Calif. — A man was shot and killed Tuesday outside a National City restaurant where World Cup fans were celebrating, authorities said.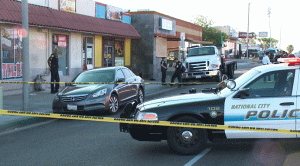 The shooting occurred outside the Rincon Del Mar restaurant in the 300 block of Highland Avenue. It was reported shortly after 5:30 p.m., according to the San Diego Fire-Rescue Department, which dispatches for the South Bay city.
An investigator told Fox5 people were celebrating the Mexico-Brazil World Cup match when a fight broke out.. It escalated when someone hit another person with a beer bottle.
The fight spilled into the street and then someone pulled out a gun and fired several shots, witnesses said.
The wounded man was taken by ambulance to UCSD Medical Center in Hillcrest, SDFRD spokesman Lee Swanson said.
The victim later died at the hospital and homicide detectives were called in to help with the investigation.The 36-year-old man's identity was being withheld until family members could be notified.
Police did not release a description of the gunman.