This is an archived article and the information in the article may be outdated. Please look at the time stamp on the story to see when it was last updated.
SAN MARCOS, Cali. –  Callie Ford of Escondido rescued Jack, a Lab-Pit bull mix, when he was a year and half.  He became a loyal family member and companion.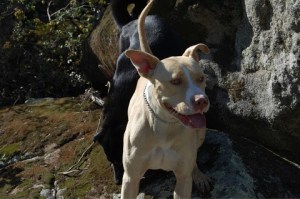 "He was always there to give you kisses, and to snuggle with you," said Ford.  "He was just a happy dog."
Jack was even featured in a calendar to help raise money for spaying and neutering.
On April 4th, Ford's mother took 5-year-old Jack and their three other dogs for a run on a dirt road at the end of Upper Eagles Nest at 28300 Lawrence Welk Court, in unincorporated San Marcos.   As her mother and the dogs finished their outing,  Jack, who was off leash, ran about 40-feet ahead of the others, towards their truck, Ford said.
"All of a sudden (my mother) heard gunshots," said Ford.
Two San DiegoCounty Sheriff's deputies opened fire, shooting eight rounds.  Several of them hit Jack and killed him instantly.
"We're devastated," said  Ford.  "He was our family pet and we really miss him."
The deputies' report states that Jack charged them, barking and growling, and the deputies feared for their own safety.
But Ford said Jack had no history of aggression and her mother did not hear any barking or growling, disputing the deputies' claims.
The  Sheriff's Department said they believe deputies followed policy and procedure.
"If the dog would have been leashed, or the owner would have been with the dog, the situation might have been resolved with a much better outcome," said Lt.Michael Munsey of the San Diego Sheriff's Department.
The San Diego County Sheriff's Department has no formal protocol for deputies when discharging a firearm at a dog.  "Deputies handle each situation as reasonably as possible, given the circumstances," Munsey said.
Ford discovered that Jack's case is not an isolated one.  "All across the country, people's dogs are being shot by police in horrific situations, in their homes, and in their front yards," she said.
There is even a Facebook page called "Dogs Shot By Police."  It is dedicated to canines that have died at the hands of law enforcement.
According to Munsey, law enforcement dog shootings are much more common with dogs that are strays or off-leash.
Ford and other dog owners, say these kinds of shootings need to stop. They would like authorities to have more training in dog behavior and would like them to use non-lethal force when dealing with dogs.