This is an archived article and the information in the article may be outdated. Please look at the time stamp on the story to see when it was last updated.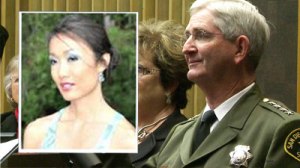 SAN DIEGO — Sheriff Bill Gore responded Wednesday to charges, aired on a nationally syndicated television show, that his department badly mishandled its investigation of a lurid, heavily publicized death at a historic Coronado estate last summer.
Gore accused the "Dr. Phil" program of indulging in "sensationalism at its lowest point" in a two-part examination of the death of Rebecca Zahau, a 32-year-old Arizona woman whose nude body was found hanged at the ocean-front manor owned by her pharmaceutical-tycoon boyfriend.
A spokeswoman for the talk show did not immediately respond to a request for comment about the sheriff's statements.
Detectives concluded that the woman killed herself, a ruling vehemently challenged on the TV program by her sister, a private detective, a prominent attorney and famed forensic pathologist Cyril Wecht, who performed a second autopsy on Zahau's body.
The four contended in their extensive interviews with show host Phil McGraw that San Diego County authorities hastily and haphazardly reached their suicide ruling, missing some pieces of important evidence at the 103-year-old Spreckels Mansion and discounting others.
Zahau's sibling, Mary Zahau-Loehner of Missouri, said she was convinced her younger sister had been murdered, though she did not identify a suspected perpetrator on the television program.
"My sister was killed, and somebody staged it to make it look like she did it to herself," Zahau-Loehner told McGraw.
Early on the morning of July 13, Zahau's unclothed body was found hanging by the neck from a balcony railing at the 103-year-old ocean-front manor owned by Jonah Shacknai, founder of Scottsdale, Ariz.-based Medicis Pharmaceutical Corp. Her hands and feet had been tied with rope, and she had a T-shirt wrapped around her neck, with part of the garment stuffed in her mouth.
After a seven-week investigation, the sheriff's department concluded that the totality of evidence in the case pointed to suicide, despite some unusual, even inexplicable aspects to the death.
Authorities speculated that Zahau may have killed herself out of grief and guilt over the accidental death of Shacknai's 6-year-old son, Max. Two days before the hanging, the boy was mortally injured in a plunge over a stairway railing in his father's 27-room mansion while under Zahau's care.
Her relatives and friends have refused to accept the ruling that she took her own life, saying she was a religious woman who viewed suicide as a sin, had shown no signs of despair and had made no statements blaming herself for Max's disastrous fall.
Gore responded to the accusations against his department by charging that the "Dr. Phil" interviewees put forth "altered and misrepresented facts" and "omitted pertinent details altogether."
"For example, the guests on the show referred to mixed DNA underneath Rebecca's fingernails," the sheriff asserted in a prepared statement. "There were 13 samples taken from fingernails of both hands. Each of the samples was analyzed separately. In 12 of the samples, the DNA results were consistent with the presence of DNA from only one person. The DNA types found in these samples matched the DNA of Rebecca Zahau."
In one of the samples, according to Gore, the results indicated the presence of DNA from at least two people. The majority of the genetic material present was consistent with Rebecca's profile, he said.
"The amount of information obtained from the other contributor(s) was so minute, it was not possible to identify the source," he stated "It is important to understand that small amounts of DNA can be transferred easily through any number of ways, including something as ethereal as a breath."
Gore also sought to refute a claim by the Zahau family's legal representative in the case, high-profile Seattle lawyer Anne Bremner, that an unknown person used a computer in the mansion a short time after the hanging occurred, despite sheriff's investigators' contention that Zahau was alone in the home at the time of her death.
"Their `findings' that someone had logged on to Rebecca's computer had already been investigated by our detectives, and it was simply determined to be an automatic computer update," Gore asserted.
The sheriff also dismissed Wecht's claim that his follow-up postmortem exam uncovered evidence that put the suicide ruling into serious doubt.
"No new information has been provided by this second autopsy . … Further, Dr. Wecht did not reach out to the San Diego County Medical Examiner's Office or the sheriff's office to attend the autopsy, as is normal protocol to establish and maintain a clean chain of custody, should new evidence be found," Gore said.
The sheriff concluded his rebuttal by suggesting that the two-part show hosted by "entertainment psychologist" McGraw was a calculated bid to achieve high TV ratings by exploiting Zahau's grieving survivors.
"This is nothing more than sensationalism at its lowest point, and the family is only enduring more suffering from this insensitivity," Gore said.