This is an archived article and the information in the article may be outdated. Please look at the time stamp on the story to see when it was last updated.
SAN DIEGO — Law enforcement officials advised parents Monday to strictly monitor their children's online activities in light of the discovery of widespread sexting among underage students in the San Diego area.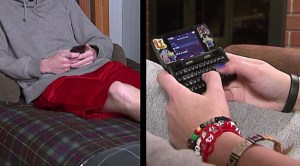 The San Diego Police Department and San Diego Internet Crimes Against Children Task Force have uncovered possession and distribution of sexually explicit images of girls who attend middle and high schools across the county, according to SDPD Lt. Chuck Kaye.
"At this point in the investigation, it appears that the girls sent their images to fellow students, who in turn passed them on to others," Kaye said. "The possession and distribution of this type of image is against the law and is child pornography."
Authorities expect to make arrests in the case, though none have occurred yet, the lieutenant said. Currently all those under investigation are minors.
Kaye declined to identify the schools attended by those involved in the suspected crimes.
Parents of students in middle and high school should keep close tabs on their children's cellphone use and other online interactions to help prevent such illicit behavior, which "can have a negative impact on the sender of the images as well as the receiver for years to come," Kaye said.
"Parents need to discuss not only the criminal implications of the sharing of these types of pictures but the reality that once they are shared there is no way to control who might have them or where they will be posted," he said.
Sevearl 9th graders we spoke with anonymously say that sexting is omnipresent at their school. Students say they know it could have negative consequences, "but everyone does it."
The Internet-crimes task force advised that parents:
understand the technology their children are using, and be familiar with their phones and their favored social-networking sites, gaming systems and chat sites, some of which could have messaging and photo-sharing options;
remind children that once an image is sent, it can never be retrieved, and ask them how they would feel if their teachers, parents, friends and the entire school saw an intimate picture;
discuss the potential legal and social ramifications of sending inappropriate pictures or spreading them online;
talk about the pressures to send revealing photos, let children know that you understand how they can be pushed or dared into sending something, and stress that no matter how strong the social pressure is, the potential public humiliation can be much worse;
establish house rules for use of cellphones before children get them;
require that children's phones be charged at night in their parents' room, where the adults can review contents and keeps youngsters from texting late into the night;
check phone bills, make sure you recognize all numbers on them, and ask children about any you aren't familiar with; and
remember that you pay the bill and own the phone, and therefore have the right and responsibility to be a good watchdog over its use.