This is an archived article and the information in the article may be outdated. Please look at the time stamp on the story to see when it was last updated.
SAN DIEGO – Human trafficking for the sex trade is now the fastest growing business by organized crime and it's not just affecting big cities, it's happening right here in San Diego.
In an effort to beef up the current child protection laws, Rep.  Juan Vargas is introducing a bill Tuesday that eliminates the need for prosecutors to prove the perpetrator knew the victim was a minor.  Defendants have been using this loophole to get a lighter sentence.  Vargas, is partnering with sex trade survivor "Hazel" to bring a face to the issues.
"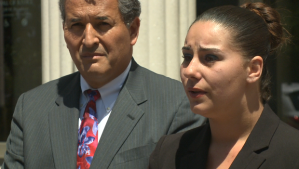 You are beating them into submission," said Hazel, who was held against her will in January of 2010, "they can't run and they can't fight and they can't argue and that is what happened to me."
Hazel, not her real name, has a greed to be the face of this issue to help the great good.  According to the FBI, human trafficking and sex slavery is the fastest growing business by organized crime in the world and it's happening right here in San Diego.
"Hazel and others like her suffer from post traumatic stress disorder, "I have scars that I have to look at every day from this experience."
"She was kidnapped in 2010 at work by her own boss and then sold as a sex slave for almost a year.
"Not a  single girl went without getting beat," she said and you can't eat when you feel like it, "we weren't even able to go to the bathroom without asking permission."
She's one of the lucky ones however, she escaped, and then worked with law enforcement to bring down the man who enslaved her by leaving behind a trail of hotel receipts.
"Every credit card, phone bill was in this man's name," she said, "so his stupidity lucked us out."
He got 30 years to life, one of the longest sentences at the time for this type of crime.
Vargas will introduce the Child Protection Act of 2013 "Hazels Law" will strengthen the existing statute baring sex trafficking of a minor by eliminating the knowledge of age requirement in the law.
"Currently, it falls on prosecutors to prove that the trafficker knew the victim was minor. Often times that's a nearly impossible feat," he said.
Exact numbers are nearly impossible to track, but it's estimated 300,000 children and women are at risk every year for commercial sexual exploitation. Using her voice for the voiceless, "Hazel" said she hopes to change that and has this message for women who may be in her situation.
"You do have a voice- what happens to you matters and you matter," said the survivor. "There's help and you're not alone and you're not ruined and your worth it."