This is an archived article and the information in the article may be outdated. Please look at the time stamp on the story to see when it was last updated.
SAN DIEGO – The man who sexually assaulted a 14-year-old girl on Thursday may have also attacked a 15-year-old girl a month and a half ago, investigators said.
The latest attack happened Thursday at about 6: 30 a.m. as the girl was walking from her house to Mira Mesa High School. A man came up to her as she was walking in the 8800 block of Flanders Drive and began talking to her. He then sexually assaulted her and ran off through a residential complex, police said.
The man was described as a Latino man with a dark complexion, 35 to 40 years old, about 5 feet seven inches tall, average build with short, dark hair. The victim told police that he spoke with a Spanish accent.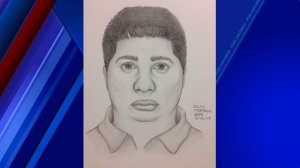 The attacker's description was similar to a man wanted for the sexual battery of a 15-year-old girl on Oct. 17. That girl was also walking to Mira Mesa High School when she was attacked at about 6:30 a.m.
Investigators are reviewing other recent cases in the area to see if they might be connected.