This is an archived article and the information in the article may be outdated. Please look at the time stamp on the story to see when it was last updated.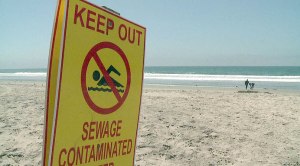 SAN DIEGO — An influx of sewage-fouled water from the Tijuana River prompted a contamination alert Tuesday for a several-mile stretch of ocean shoreline just north of the U.S.-Mexico border.
The advisory area extends from the international boundary through the shorelines of Border Field State Park and Tijuana Slough National Wildlife Refuge, to the south end of Seacoast Drive in Imperial Beach, according to the county Department of Environmental Health.
Signs warning of pollution hazards will stand in those locations until follow-up testing deems them safe for recreational use, the DEH advised.