This is an archived article and the information in the article may be outdated. Please look at the time stamp on the story to see when it was last updated.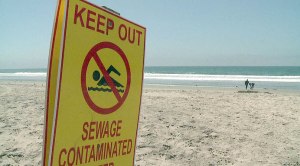 SAN DIEGO — A contamination alert was in effect Thursday along several miles of ocean shoreline near the U.S.-Mexico border, where sewage- fouled water flowed out of the Tijuana River.
A recent pipeline break at a reservoir caused the river volume to overwhelm sanitation diversion pumps, leading to the influx of pollution, according to the San Diego County Department of Environmental Health.
On Wednesday, the agency issued a coastal contamination warning from the southern terminus of Seacoast Drive in Imperial Beach to the international line.
Signs warning of health hazards will stand along those beaches until follow-up testing deems them safe again for recreational uses, the DEH advised.