This is an archived article and the information in the article may be outdated. Please look at the time stamp on the story to see when it was last updated.
SAN DIEGO – A dog that was badly abused by its owner and then abandoned on the streets of Tijuana is now being given loving care and medical treatment in San Diego.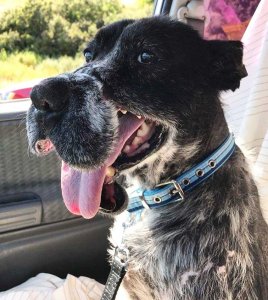 Dwayne, a 2-year-old Pointer mix, was rescued from the streets of Tijuana by a person who saw him being mistreated by residents, who were disgusted by his deformities, according the Helen Woodward Animal Center in Rancho Santa Fe. The rescuer learned that Dwayne's original owner had bound his mouth with wire and regularly kicked him and beat him with sticks. The dog had been foraging on the streets of Tijuana since his tormenter was jailed on unrelated charges.
While he was living on the street, residents threw scalding water and stones at the animal. He was further injured when two pit bulls attacked him, causing severe head wounds and nearly ripping off his ears.
The Mexican rescuer could not find a shelter in Tijuana that would take the dog, because of his extensive injuries. With the help of a donor in Arizona, Dwayne's more severe injuries were patched up, and the Tijuana rescuer contacted Dr. Patricia Carter, chief veterinarian at the Helen Woodward Center's animal hospital..
"I immediately contacted our president," Carter said.  "You can't look at this dog and not want to do everything in your power to help him.  I knew he would say yes."
Vets are still evaluating Dwayne's injuries, but he will certainly need to undergo several more surgeries, according to Helen Woodward staff. In the meantime, he is being cared for by a foster family. When he has fully recovered, he will be made available for adoption.
If you would like to contribute to Dwayne's recover, go to the Helen Woodward Animal Center website.