This is an archived article and the information in the article may be outdated. Please look at the time stamp on the story to see when it was last updated.
LA JOLLA, Calif. — Summer is almost here and that means more people are going to the beaches.  But some swimmers can't shake the thought of what's swimming with them.  On Thursday, 42-year-old Brandon Beaver's body washed ashore in Pacific Beach with shark bites on his body.
"You know it's in the back of your mind, but you have to come to grips with that.  You're going to be out there and you could see a shark," said surfer, Brent Koons.
"Every once in a while, we'll see a dark shadow.  You really never know what it is but you have to expect it when you're in the ocean it's their home," added Michael Kennedy.
I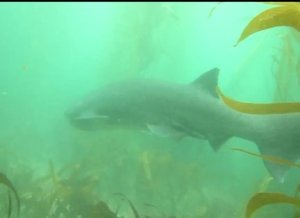 f you`re taking a dive near the La Jolla Cove and the kelp forests, you may see a sevengill shark.
Scientists said they`ve seen the population grow over the past five years with no clear reason why.
The sharks get up to about 8 to 9 feet and primarily hunt fish and small marine mammals.
"As for living humans sevengills really pose no threat. Thousands of scuba divers have been in the water with these animals without incident," said Dr. Andrew Nosal, a marine biologist with the Scripps Institution of Oceanography.  "That being said, they are large, they have big powerful jaws so they are potentially dangerous."
Dr. Nosal added that the sharks are normally scavengers and typically hunt in packs.
While the medical examiner said Beaver drowned before his corpse was attacked, it's still a mystery as to what animal bit him.
"'My opinion that this is a sevengill shark is only based on seeing a few low resolution photographs," said Dr. Nosal.  "But after the autopsy [Friday], I`ve requested some higher resolution photographs and that any teeth that were found embedded in the body be saved. If we can get those we can make a definitive ID."
In the meantime surfers are sticking to a simple philosophy.
"You can`t control it," said Andrew Eisenberg.  "It`s like you`re on a roller coaster and it breaks down. There`s nothing you can do about it, you`re already there."
"As long as you`re in the ocean you run the risk," said Kennedy.  "But as long as you don`t really bother them and stick to yourself, the odds are really not against you."