This is an archived article and the information in the article may be outdated. Please look at the time stamp on the story to see when it was last updated.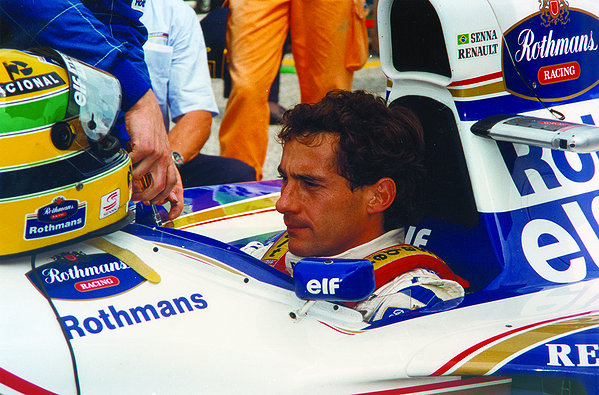 When I was the sports director of a local morning radio show in the early '90s, I interviewed a lot of athletes. The one interview I was nervous about was Juan Manuel Fangio. That's because he was a racing legend and I knew almost nothing about the sport.
I love sports rivalries…the Celtics/Lakers, Connors/McEnroe, Red Sox/Yankees, Ali/Frazier. Who knew that Prost/Ayrton deserves to be on that list?
As a kid, Senna Ayrton was a racer who was tearing things up in the go kart circuit.
Alain Prost was the cool French Formula One racer. They eventually became teammates, and then rivals.
In the 1989 Grand Prix in Japan, the two collided. The French President of the Federation Internationale de Sport Automobile, sided with his countryman. Odd, since it seemed to clearly be Prost's fault.
Senna was suspended for a year, and the one aspect of racing he never seemed to get was the politics.
Some people argue that bowling, golf, and racing aren't real sports and you don't have to be an athletic specimen to be at the top of those sports.
Now, maybe pool and darts aren't "sports," but certainly the previous list takes some amount of using your body.
And when you watch Senna having to be helped out of a car, and he can't even lift the trophy over his head (because his car malfunctioned and he needed to use every ounce of strength to stay in control) – you'll agree these are athletes.
The footage is exciting, and that includes cameras that were on Senna's vehicle.
Perhaps the filmmakers didn't want to slow things down with a narration, but I would've liked some of that.
I wanted to know a little more about racing, or what made Senna tick.
I see footage of him on a yacht, with a young boy. Who is that boy? Did he have children?
We see he's dating a blonde TV host, but that's all we really get to know about him.
They talk briefly about his charitable work in the poor parts of his homeland of Brazil, but I was left wanting to know so much more about him.
Prost ended up winning a title, and retiring right afterwards.
Senna was a triple world champion, but always seemed like he had more to prove.
Not knowing a lot about what's involved with drivers, I wanted to know what made him so great. They tell us he wasn't scared to floor it during bad weather conditions, but what else? Is it just the fact that he didn't mind taking risks?
Later in the movie we see how technology brings controversy to the sport. I would've never guessed that would become a problem.
Ya know, they have cameras in the cars. I'd love to hear a GPS unit in one (make the next left in 2.3 seconds, another left in 9 seconds…).
The lack of talking heads in the movie means we never get to hear how Prost felt about the way Senna's career came to an end.
I'm guessing it wouldn't have been as warm and fuzzy and the Magic & Bird special HBO ran last year.
Overall, the documentary lacked a few things, but was still rather enjoyable. It gets 3 1/2 out of 5 stars.