This is an archived article and the information in the article may be outdated. Please look at the time stamp on the story to see when it was last updated.
SAN DIEGO — The guided-missile cruiser USS Princeton and its 400 sailors departed San Diego Wednesday, but the ship's sendoff was marred when a young boy was injured on the ship.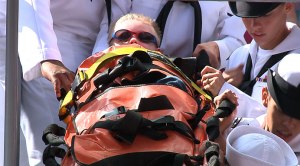 The 567-foot-long Princeton, named after the location of a Revolutionary War battle, left for a six-month deployment and will provide air defense for a strike group led by the aircraft carrier USS Nimitz, according to the Navy.
Before the departure, a young boy who fell aboard the vessel. The youngster was carried off the cruiser in a stretcher and loaded into an ambulance. He suffered an arm injury that was not serious.
The Nimitz, which used to be based in San Diego but was transferred to Washington state, will undergo certification exercises before the vessels sail to the western Pacific Ocean and Middle East.
A Navy spokesman said the strike group's deployment was part of a normal schedule, now that the aircraft carrier has overcome maintenance problems that had caused delays.
It's not known whether the Nimitz group might eventually be directed toward the Korean peninsula in light of the threats emanating almost daily from North Korea.
One San Diego-based vessel, the guided-missile destroyer USS Decatur, is among three ships positioned in the western Pacific to provide missile defense, according to the Pentagon.
The San Diego-based destroyers USS Higgins, USS Stockdale and USS William P. Lawrence, normally part of the flotilla that sails with the Nimitz, deployed in January.