This is an archived article and the information in the article may be outdated. Please look at the time stamp on the story to see when it was last updated.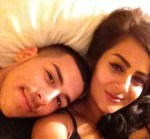 LOS ANGELES – Detectives asked the public to identify two people whose photos appeared in the "cloud" after a burglary victim's electronics were stolen.
A Santa Clarita woman's home was burglarized on July 30 and days later "selfie" pictures of a man and woman showed up in her online photo account, Los Angeles County Sheriff's Department detectives said.
The mesh screen of the victim's kitchen window was cut out and her home ransacked. Electronics, cash and other property were taken, KTLA reported.
Santa Clarita Valley detectives released the selfie pictures of the couple smiling and resting on pillows. The detectives want to talk to the pair, who were deemed "persons of interest," according to KTLA.
Electronic devices, including cell phones and tablets, can be set to automatically sync with online photo "cloud" accounts. In this case, the Sheriff's Department was not specific with how the photos appeared, only saying the showed up in the burglary victim's "cloud' account."
The public was asked to call 800-222-8477, or text the letters TIPLA plus your tip to 274637, tweet using hashtag #SCV or go to lacrimestoppers.org with information about the pictures.