This is an archived article and the information in the article may be outdated. Please look at the time stamp on the story to see when it was last updated.
SAN DIEGO -- A possibly confused or irrational airline customer's troubling comments about his luggage prompted an evacuation of part of Lindbergh Field Wednesday until authorities determined that the statements indicated no threat of any kind.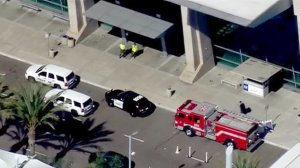 A person flagged down a security officer in a baggage-claim area in Terminal 2 at the bayside airport shortly after 11 a.m. to report the man's suspicious remarks, San Diego Harbor Police Sgt. Victor Banuelos said.
Officials cleared travelers and employees out of the eastern side of the terminal while officers with a service dog and explosives experts scrutinized the luggage in question.
Nothing hazardous was found, and the area was re-opened shortly before noon, the sergeant said.
The owner of the searched baggage, whose name was not released, was detained for a mental-health evaluation.
Though any delays in outgoing flights caused by the incident were expected to be minor, authorities advised Travelers were advised to check their flight status before heading to the airport Wednesday afternoon.
Banuelos declined to disclose the nature of the comments that prompted the roughly 45-minute security alert.
ALERT: There is a security-related incident underway at SAN. Law enforcement is on scene & safe evacuation is underway.

— San Diego Airport (@SanDiegoAirport) February 7, 2018
UPDATE: Harbor Police has cleared the incident. Terminal 2 to begin re-populating.

— San Diego Airport (@SanDiegoAirport) February 7, 2018