This is an archived article and the information in the article may be outdated. Please look at the time stamp on the story to see when it was last updated.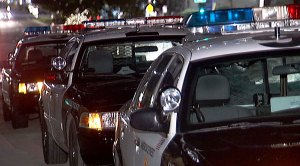 SAN DIEGO – A bar security guard was stabbed in the chest Sunday morning when a suspect started arguing with him, an officer said.
The stabbing occurred just before 2 a.m, at The Club Numbers in the 3800 block of Park Boulevard, said San Diego police Officer David Stafford.
The suspect got into the argument with the security guard, Stafford said. "During the argument the suspect stabbed the victim one time in the chest. The suspect fled the scene."
The security guard was transported to a trauma center with what was believed a non life-threatening wound, Stafford said.