This is an archived article and the information in the article may be outdated. Please look at the time stamp on the story to see when it was last updated.
SAN DIEGO — School police officers patrolled a San Carlos middle school Tuesday morning in response to threats made last week by a student against classmates, school officials said.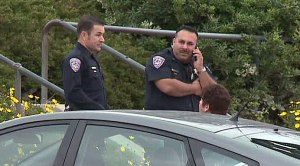 Three police officers and a sergeant were part of a crisis response team at Pershing Middle School on Navajo Road to greet parents and students. They were posted at the school following an unspecified threat from a student who had been taken out of school last week, according to the school's principal.
The principal first notified parents of the threat in a letter sent home with students on Thursday. There was no school on Friday or Monday because of the Presidents Day holiday.
The student who made the threat was being offered counseling, as were the students who had been threatened, the principal said. He will not return to the school, officials said.
By 8:30 a.m., students at the school were in class and three of the district police officers had left, FOX 5 News reported. One officer remained at the school for the rest of the day. Classes were on a normal schedule, district officials said.