This is an archived article and the information in the article may be outdated. Please look at the time stamp on the story to see when it was last updated.
CHULA VISTA, Calif. – A new SeaWorld water park replacing the Knott's Soak City is debuting in time for summer in Chula Vista.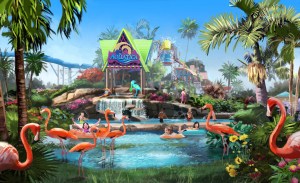 In November, the owner of SeaWorld Parks and Entertainment acquired Knott's Soak City and planned for a massive transformation.
The park will be remodeled into "Aquatica", a SeaWorld water park that includes sandy beaches, wild animals, and a lush relaxing landscape, similar to those in Orlando and San Antonio.
"We'll have Caribbean flamingos, fresh water turtles, personal cabanas and shaded lounge seating. It's kind of a south seas theme," said Vice President of Aquatica David Cromwell.
The original rides from Soak City will stay in place, but be repurposed and repainted.
SeaWorld plans to hold a job fair March 23 in Chula Vista for it's June 1st opening.
No word yet on ticket prices.