This is an archived article and the information in the article may be outdated. Please look at the time stamp on the story to see when it was last updated.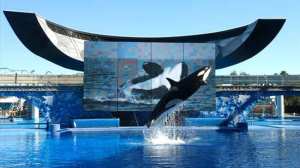 There is something fishy about this IPO.
SeaWorld Entertainment Inc. and its killer whales are going public, filing for an initial public offering that could raise $100 million.
The theme park company, famous for using the orca Shamu as a performer, said in a filing with the Securities and Exchange Commission that it hopes to trade under the ticker symbol SEAS.
But it didn't say much else — not what exchange would host its stock, how many shares will be up for grabs, the expected share price or when they'll be offered.
The Orlando, Fla., company — whose 11 theme parks include the Busch Gardens parks on the East Coast and three SeaWorld centers in San Diego, Orlando and San Antonio — is owned by Blackstone Group. The company's collection includes about 67,000 marine and terrestrial animals.