This is an archived article and the information in the article may be outdated. Please look at the time stamp on the story to see when it was last updated.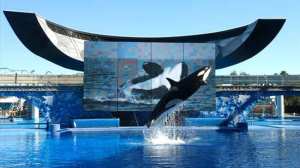 SAN DIEGO — SeaWorld Parks & Entertainment announced Tuesday that an 18-month celebration of its 50th anniversary will begin on March 21 next year at all three of its parks, including San Diego.
Local activities will begin with the opening of Explorer's Reef, a new entrance plaza at SeaWorld San Diego, which opened on Mission Bay in March 1964.
The beach-themed ticketing area will make it appear that visitors are walking underwater, according to the theme park. Four pools containing 5,000 fish will be located just inside the entrance.
SeaWorld officials said park guests will experience surprise animal encounters and receive special prizes and gifts like exclusive access to rides, behind-the-scenes tours, T-shirts or Shamu merchandise.
The theme park is also planning new animal shows and entertainment.
Large sea life sculptures will be displayed, and the Environmental art group Washed Ashore has been commissioned to create works from ocean debris.
SeaWorld's parks in Orlando and San Antonio will also participate in the celebration.