This is an archived article and the information in the article may be outdated. Please look at the time stamp on the story to see when it was last updated.
SAN DIEGO — Five young children who ran away from a treatment center Tuesday morning were found safe several hours later, police said.
The children, ages 10 to 12, were reported missing after staff members at the San Diego Center for Children saw them climbing a fence and leaving the center at around 8 a.m. The three girls and two boys were last seen at a nearby strip mall, police said.
Police from San Diego and El Cajon joined sheriff's deputies and volunteers in a search of the Linda Vista neighborhood and the nearby urban canyons, including Tecolote Park. Searchers were being aided by at least one helicopter and police K-9 teams.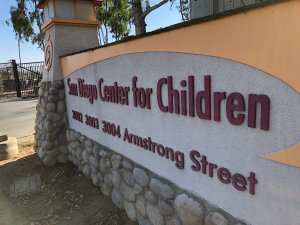 Police identified the runaways as Jasleen Keating, 12; Zachary Zook, 11; Kiana Morales, 11; Benjamin Chavez, 10; and Alexa Rixo, 10.
About 3:45 p.m., police spotted the children at the Old Town Transit Center, several miles to the south of the group home, Officer John Buttle said. Officers located two of the children, but three others ran off and the search continued.
Hours later, a homeowner on Keating Street in Mission Hills called police to say he had found the three children, wearing pajamas and without shoes. By 9 p.m., all five children were safe with officers, police said.
"I'm very happy right now. I said, 'thank you, Jesus, for my daughter,' because I have been worried," the mother of Kiana Morales told FOX 5.
Authorities did not say why the children were at the center, which is located at 3002 Armstrong Street. The non-profit organization provides foster care and other services for children and families that have mental, emotional and behavioral problems, according to its website.
Authorities said they mounted the intensive search effort because they want to prevent the children from being harmed. There was no danger to area residents, they said.