This is an archived article and the information in the article may be outdated. Please look at the time stamp on the story to see when it was last updated.
SAN DIEGO — Border Patrol agents took 14 people suspected of entering the country illegally into custody Friday after a panga landed in La Jolla, authorities said.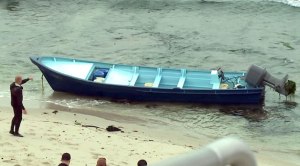 A security guard at Children's Pool reported seeing more than a dozen people get out of the open Mexican fishing boat at about 2:30 a.m.
Border agents quickly launched a search on the ground and in a helicopter. They took 13 men and one woman into custody. All were from Mexico, Border Patrol Agent Jerry Conlin said. They were taken to the local Border Patrol station.
Agents seized the vessel, and no narcotics or weapons were found, he said.