This is an archived article and the information in the article may be outdated. Please look at the time stamp on the story to see when it was last updated.
SAN DIEGO — Rescuers from SeaWorld have been extremely busy since December picking up sick seals and sea lions.
Right now at the park's Animal Rescue Center they have more than 130 of the animals. All of them picked up on the brink of starvation along our coast.
"Hypothetically we think their food source they're looking for isn't there, crayfish and sardines have vanished from California waters around the Channel Islands and coastal areas, they're just not able to find food and they're just starving, coming in severely malnourished," said Dr. Todd Schmitt who runs Sea World's Animal Rescue Center.
Dr. Schmitt said they are seeing 10 times the number of seals and sea lions they would normally see this time of year.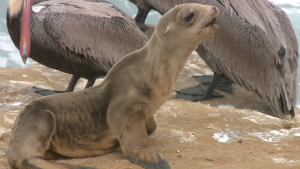 The on-going high surf is also contributing to the animals' plight, the animal rescuers said.
Once they end up on the beach or rocks, the pounding waves are making it difficult for the weak seals and sea lions to plow through the surf in search for food in the ocean.
SeaWorld officials said they seals and sea lions they pick up will be nursed back to health and fed for about four weeks before they release the animals back into the Pacific.
If you need to report a sick or injured sea lion or seal, contact SeaWorld's hotline at 800-541-7325.
Download Fox 5 iPhone app  |  Download Fox 5 Android app
OTHER STORIES: