This is an archived article and the information in the article may be outdated. Please look at the time stamp on the story to see when it was last updated.
SACRAMENTO – The war between Sea World and environmentalists went to the state capital on Wednesday.  The park's representatives defended their operation and made an informational presentation to lawmakers.
Fox 5 had a first hand look at the presentation given to legislators on Wednesday.   Crews were invited into the marine life park, where they invited to get a behind the scenes look at the whales.  Trainers explained the unique relationship with the orcas.
"When we interact with these guys it's really multi-dimensional.  Not only do they learn from us, we learn from them," said Julie Scardina, Animal Ambassador.
It's all part of a preview of arguments likely to be leveled against the Orca Ban Bill.  The bill by Santa Monica Assemblyman Richard Bloom follows the documentary Blackfish and hits the legislative floor on Tuesday.  The bill hopes to ban the use of killer whales for performance.  It also highlights the dangers trainers face in working with the mammals.
"I've worked with killer whales off and on for about 30 years now," said Scardina.  She said trainers spent long hours studying the whales and their behavior.
"The spend time researching what do these whales enjoy the most.  Each whale is different."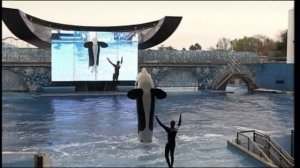 Scardina said if Bloom's bill passes, it would destroy a vital part of what keeps the orcas happy and healthy.
"The shows are a big aspect of what we use to make their environment enriching," said Scardina.  "It stimulates them, makes it exciting and as fun as possible."
Fox 5 reached out to several San Diego lawmakers in the presentation.  Only Assemblywoman Shirley Weber responded, "We are watching the bill closely as it has a big impact on San Diego, but we are not making any comments at this time."