This is an archived article and the information in the article may be outdated. Please look at the time stamp on the story to see when it was last updated.
SAN DIEGO – San Diego Unified School Board voted Tuesday in favor of selling two more district-owned properties from revenue.
Typically, funds from property sales are limited to maintenance costs and capital outlay, but through January 1, 2014 the proceeds may be added to the general fund per California law.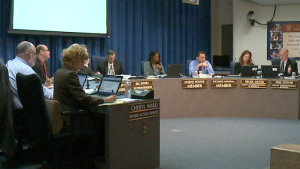 The former sites of MacMullen Elementary and Stevenson Elementary will bring in an estimated $27.9 million, less title and escrow expenses. MacMullen is estimated to bring in $19.3 million of that revenue. The funds will be used as part of a plan to eliminate structural deficit.
"We're not in the real estate business or we shouldn't be," said Kevin Beiser, school board trustee. "We should be in the education business."
Beiser was one of four board trustees voted in favor of the sales.
"We need to use these resources as a bridge," said Beiser. "Until such time that Sacramento fully funds public education and we start realizing more of our fair share of the Prop 30 dollars that are coming to San Diego Unified Schools."
Trustee Scott Barnett had the dissenting vote. He's been adamant that selling property is the wrong way to bring in revenue and believes the district should continue collecting money from the lease of the properties.
"By doing that we're going to get rid of $5 million a year," said Barnett. "It grows every year, for forever. Unfortunately, it's gone from bad to worse. I'll keep opposing it until we develop a long term strategy to not spend more money than we take in, then this is going to be a problem."
District staff said they believe the structural deficit can be eliminated by the 2015-2016 school year by selling the properties and decreasing staff through attrition.
In a plan discussed at the meeting, staff also said trustees would need to commit to a staffing plan consistent with enrollment, control healthcare costs and realign the instructional program where necessary while maintaining the academic wellbeing of students.