This is an archived article and the information in the article may be outdated. Please look at the time stamp on the story to see when it was last updated.
SAN DIEGO — A second member of the San Diego Unified School District Board of Education called Thursday for a review of punishment meted out to more than 30 Scripps Ranch High School students who appeared on video performing a suggestive dance routine.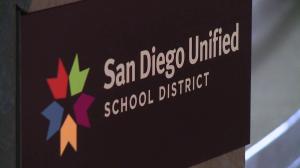 Trustee Scott Barnett issued a statement through the district that called for a closed session discussion at the board's next regular meeting on May 14.
Parents and other students told local media outlets that the dancers and videographer were suspended for five days and could miss prom and might not be allowed to walk at graduation.
The video shows the students "twerking" while doing handstands, gyrating and shaking their hips in a sexually suggestive manner.
The story on the suspensions has received national attention.
Media sources reported the video was made on campus while school was in session.
"The school board has not received a briefing yet and all I know is from media reports," Barnett said. "As a father of two teen-aged daughters (in a different high school in San Diego Unified), I take issues of proper conduct and discipline very seriously; at the same time I need to be satisfied that the consequences of these actions are reasonable and proportionate."
He declined to discuss specifics about individual students. The district has refused to comment on the suspensions.
On Wednesday, Trustee Kevin Beiser also called for a review of the suspensions by the school board.
An unidentified mother of a suspended student told NBC7/39 that the boy who made the video told the girls it was for a school project and he didn't know it would be uploaded to YouTube.
"This child — the one who did the video — is being punished the same way the girls are," the woman said. "I think his punishment should be a lot more severe — and I want to know how the school is being held accountable for the fact that this happened during class time, on campus, and who's watching the videos that are being taken and who's checking out the computers and all that."
The mother said she does not think the dance was appropriate and conceded that her daughter did not use good judgment, the station reported.