This is an archived article and the information in the article may be outdated. Please look at the time stamp on the story to see when it was last updated.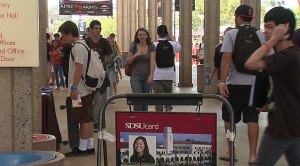 SAN DIEGO — A spate of cell-phone thefts at San Diego State University prompted campus officials Monday to warn students to avoid letting strangers "borrow" them.
In recent weeks, several people have fallen prey to crooks who say they need to make a phone call but have no mobile phone, according to SDSU police.
Late Saturday, a man approached a student near a campus transit center and made a similar statement. Having heard about the thefts, the student declined to hand over his phone, walked off and called police to report what had happened.
Officers who found the suspected thief nearby took a pistol from him and arrested him on suspicion of a weapons violation. There was no immediate evidence that the suspect, whose name was withheld, was involved in recent cell phone thefts.