This is an archived article and the information in the article may be outdated. Please look at the time stamp on the story to see when it was last updated.
SAN DIEGO – Two San Diego State University students were robbed at gunpoint on the campus today, police said.
The students were confronted by the two robbers on Cuicacalli Walk shortly after 2 a.m. According to SDSU, "The robbers pointed handguns at them and demanded their property."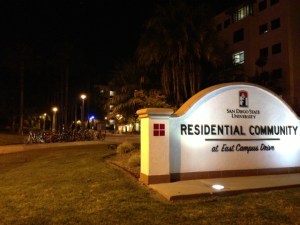 "The suspects got away with the students' cell phones, wallets, ATM cards and a backpack. They were last seen running toward College Avenue," campus police said.  "No one was injured," police said.
According to police both suspects are described as black and in their late 20s. One was about 6 feet 2 with an athletic build and was wearing a black hooded sweatshirt with "SDSU" in red on the front. The other was about 6 feet 3 with a thin build and had thick eyebrows. He was wearing a black beanie.
SDSU police asked anyone with information to call at (619) 594-1991, call Crime Stoppers at (619) 235-8477 or email police@mail.sdsu.edu .