This is an archived article and the information in the article may be outdated. Please look at the time stamp on the story to see when it was last updated.
SAN DIEGO – A San Diego State University student gave a new meaning to "fast food" after he got his name into the Guinness World Records by eating chicken nuggets.
Even though he looks slight at 5-feet 8-inches and 160 pounds, Nick Holeman can eat.
Holeman has the letter to prove it.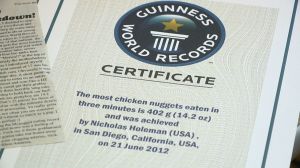 Holeman earned a spot in the Guinness Book of World Records after he ate just over 14 ounces of chicken nuggets in three minutes on June 21, 2012.
Spurred on by his friends, who constantly marveled at how much he could eat, the SDSU senior from Sacramento researched a record he could try to break.
Wearing a red, white and blue tank top, and using sweet and sour sauce to help them go down easy, Holeman downed 24 nuggets at the McDonald's right next to campus, taking the world record away from someone in England.
After sending Guiness the video, plus pictures and other supporting documents, the 22-year-old received his official record.
"I have the certificate framed on my wall," Holeman said. "That's another funny thing. When people walk in and see my house for the first time, they say, 'is this for real?' 'Yeah, it's for real.' It never gets old."
Holeman said can east a bunch and not balloon up because he played several sports growing up and works, and worksout at the gym on campus.
"If I was some 6-foot, 300-pound guy, it probably wouldn't be that cool. But with my stature, it makes it entertaining. Like no way, he can do it."
The sport of competitive eating has blown up.  Holeman said this was just a one-time thing – something he could add to his unofficial resume or funny stories at a bar.
Alas, records are meant to be broken.  After we did this interview, we found out someone has topped Holeman's mark. Holeman said that's great, but he still plans to keep the certificate hanging on the wall.