This is an archived article and the information in the article may be outdated. Please look at the time stamp on the story to see when it was last updated.
SAN DIEGO — Students at San Diego State University are taking issue with a Business Insider article that ranks SDSU among the top 10 most dangerous campuses in the country.
Many college students consider SDSU paradise, so the ranking came as a big surprise to the Aztecs.
"I don't think it's really dangerous. I've never had a problem," freshman Jordan Weeks said.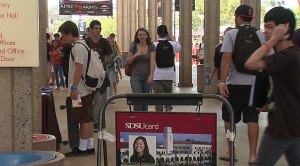 "I feel safe pretty much every day during the day," junior Robyn Corcoran said. "But if I have a night class where I'm out at like 9:30 p.m. or something you kind of have to hustle your way home."
SDSU is No. 7 on the list. Business insider used FBI crime data during a three-year period to come up with the rankings.
The site looked at schools with more than 10,000 students and then weighed violent and property crime.
SDSU averaged 27 violent incidents a year and 575 reports of property crime.
Those numbers came as a big surprise to freshman Amara Cusella.
"It's really surprising," Cusella said. "I see police every night just patrolling. I feel pretty safe when I walk around campus."
Business Insiders Top 10 Most Dangerous Colleges:
UCLA
New Mexico State University
Berkley
Duke
Florida A&M University
Vanderbilt University
SDSU
University of New Mexico
University of South Alabama
LSU