This is an archived article and the information in the article may be outdated. Please look at the time stamp on the story to see when it was last updated.
SAN DIEGO –
UPDATE: SDSU has started a campaign to help Chad and his family. To help, click here.
One of the newest members of the San Diego State Aztecs baseball team doesn't plan on letting his recent cancer diagnosis stop him from supporting his team.
Outfield Chad Bible is a newcomer to the Aztec family. He transferred to SDSU from College of the Canyons this year. He did so after becoming the 2015-16 leader among all junior college players in California in home runs and RBIs.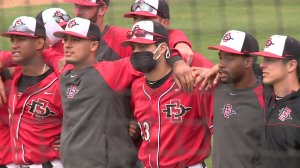 In early January, Bible found a lump on his neck and after tests, doctors diagnosed him with Hodgkin's Lymphoma.
"I didn`t think cancer could be a possibility... A wave of shock hit me," Bible said when his doctor broke the news to him. "I couldn`t really hear anything she said for a couple of minutes. It wasn`t the fact that I had cancer - people get cancer all the time – it's that I had to possibly forego this baseball season I'd been looking forward to since my freshman year."
Bible hit cleanup for the team's first five games. On February 16, he began his first of seven chemo therapy treatments in the Los Angeles area.
Despite the commute and the strain on his energy, the sophomore plans to keep showing up at Tony Gwynn Stadium and wherever the team plays this season. Bible wears a mask to protect his immune system during treatment.
The adversity he's facing in his first season with the Aztecs has already bonded him with his teammates. As a way to support Bible, each player on the Aztecs team wears a dog tag with his initials on it.
Over the weekend, the Aztecs baseball players shaved their heads to support the Pediatric Brain Tumor Foundation in the team's annual "Versus Cancer" game.
Glad to shave our heads for The Pediatric Brain Tumor Foundation! Our @vs_cancer game begins at 1 PM #sdsubaseball #goaztecs #beatcancer pic.twitter.com/wDYF6PDL2Z

— SDSU Baseball (@SDSUBaseball) March 4, 2017