This is an archived article and the information in the article may be outdated. Please look at the time stamp on the story to see when it was last updated.
SAN DIEGO - A female San Diego police officer was injured and a suspect was killed in a shooting in Kearny Mesa Sunday morning, authorities said.
A woman who has been on the police force for five years was shot in the upper body Sunday around 7:40 a.m. near 7700 block of Mesa College Drive, according to SDPD Lt. Mike Hastings. The officer was taken to Sharp Memorial Hospital and was in stable condition notably in "good spirits," according to SDPD Chief Shelley Zimmerman.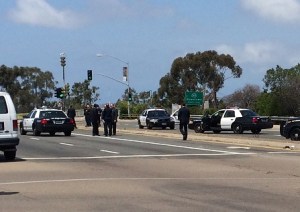 When two officers attempted to stop the driver of an speeding silver Jeep early Sunday morning on southbound state Route 805 at the state Route 163 interchange the driver refused to halt and sped off, according to Hastings. The chase ended with the suspect bailing out of his silver Jeep on the 163 Freeway near a thicket of landscaping at the 805-163 interchange.
Within minutes, the suspect apparently shot a gun at least once hitting the officer, investigators said. Two officers then shot back at the suspect, killing him.
Another SDPD officer used a trauma kit immediately, then loaded the bleeding officer into a squad car for the one block drive to Sharp's emergency room.
At least one of the officers involved in the pursuit was wearing a body camera, Lt. Hastings said. They will be reviewing any video that may have been recording as a part of the investigation.
Police were investigating whether the suspect was involved in a string of shootings in the Kearny Mesa business district, including two shootings outside the San Diego Gas & Electric headquarters, all since January. SDGE had posted a $10,000 reward for information about the shooter.
The streets near 7700 Mesa College Drive were expected to be closed to traffic until later Sunday evening.