This is an archived article and the information in the article may be outdated. Please look at the time stamp on the story to see when it was last updated.
SAN DIEGO — Shelley Zimmerman, a three-decade veteran of the San Diego Police Department, was named Wednesday by Mayor-elect Kevin Faulconer to be the city's next police chief.
Zimmerman, currently an assistant chief, will succeed William Lansdowne, who this week announced his resignation, effective Monday. She will be the first woman ever to serve in the post.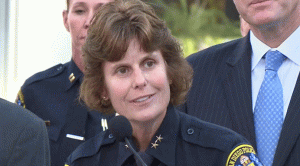 The appointment will go before the City Council next week.
"The San Diego Police Department needs leadership now," Faulconer said during a late-afternoon briefing in front of downtown SDPD headquarters. "Chief Zimmerman is a 31-year veteran, and she's ready to lead."
Faulconer described Zimmerman as a law enforcement leader who "understands clearly what will be acceptable in this department and what will not be."
The agency's public image has been compromised in recent months by allegations of sexual misconduct and other wrongdoing by a handful of officers. A longer-term challenge has been chronic underfunding that depleted the department's ranks over the years and fueled morale problems among the rank-and- file.
Lansdowne told reporters it was time to step down after 10 1/2 years in the post and called Zimmerman the best officer to succeed him.
"I know in my heart you've picked the right person to lead the city of San Diego forward," Lansdowne told the mayor-elect, who is due to be sworn in Monday morning.
Zimmerman said she was "absolutely extremely grateful, humbled and so very proud to lead our department" and thanked Lansdowne for his steady guidance in making the achievement possible.
She also had a warning for any prospective "bad apples" in the ranks of the city police force, asserting that "99.9 percent of our officers serve every single day with honor, distinction and professionalism."
"And for those few that make the absolute terrible decision to discredit this badge and dishonor our profession, I will not tolerate this," she said.
She said she supported an outside audit of the department, a proposal Lansdowne recently raised following the public disclosure of successive officer- misconduct allegations.
In recent weeks, several women have come forward with allegations of being sexually abused by SDPD officers, one of whom has since resigned and been charged with criminal counts.
Ex-patrolman Christopher Hays, 30, pleaded not guilty Feb. 18 to felony false imprisonment and misdemeanor sexual battery. He faces up to three years and eight months in prison if convicted.
Last Wednesday, department officials announced that another SDPD officer had been placed on leave amid similar accusations. A woman alleged that patrolman Donald Moncrief, 39, groped her and exposed himself after arresting her last year. He has been placed on leave pending the outcome of the case.
In 2011, then-SDPD Officer Anthony Arevalos was accused of sexually assaulting five women during traffic stops for suspected drunken driving in the Gaslamp Quarter. He ultimately was convicted and sentenced to almost nine years in prison.
Along with seeking the department-wide independent review of the SDPD's operations, city officials have proposed outfitting officers with uniform- mounted cameras to record all interactions with citizens and crime suspects.
In addition, Lansdowne has ordered that two officers be present at all times when female detainees are transported to police stations or jail.
During Wednesday's news conference, Councilwoman Marti Emerald called the occasion "exciting and historic."
"As a woman, it's great to see another woman in a position of leadership," Emerald told Zimmerman. "And I think that you come to this opportunity with some sets of skills and sensitivities that will make an enormous difference on the streets of San Diego."
While praising Zimmerman as a "well-respected leader" who will "do a fine job as San Diego's police chief," interim Mayor Todd Gloria said he had hoped for a national search to fill the post.
"San Diego is a diverse city with people of different ethnicities, nationalities, sexual orientations and economic backgrounds who have unique perspectives on law enforcement and crime prevention," Gloria said. "I wanted them to have a say in making sure that our police department appropriately reflected the communities it serves."
District Attorney Bonnie Dumanis, for her part, praised Zimmerman as "an excellent choice to lead the San Diego Police Department at this critical time when public trust must be restored."
"Choosing Shelley Zimmerman ensures that a serious review and resolution of any problems at SDPD will occur quickly," Dumanis stated. "I applaud Mayor-elect Faulconer for moving quickly and for choosing the first woman chief of police in San Diego history."
Another top county law enforcement official, Sheriff Bill Gore, greeted the news of Zimmerman's selection with similar enthusiasm.
"I've worked with Assistant Chief Zimmerman on many projects and have nothing but the utmost respect for her experience, insight and professionalism," Gore said. "I have no doubt Assistant Chief Zimmerman will continue the San Diego Police Department's tradition of collaboration and will lead the department into a new era of policing."
During her comments at the afternoon briefing, Zimmerman repeatedly hailed and thanked her outgoing boss, who took charge of the SDPD in August 2003 after stints as police chief in Richmond and San Jose.
"Chief, we are a better department and a better city because of all of your efforts," she told Lansdowne.