This is an archived article and the information in the article may be outdated. Please look at the time stamp on the story to see when it was last updated.
SAN DIEGO — Bills for San Diego Gas & Electric customers will rise as soon as Sept. 1 after the California Public Utilities Commission Thursday authorized a $123.4 million rate increase for the company.
The CPUC said a typical electric customer's bill could increase about 12.2 percent, or $9.95 per month, while households that receive natural gas would have to pay an extra 9.6 percent per month, or around $3.55.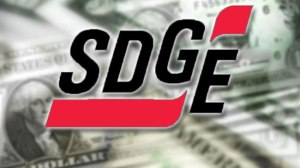 The CPUC estimates are based on use of 500 kilowatt hours per month of electricity and 33 therms of gas per month. SDG&E said in a statement that because of the way the rates are being structured, customers who use more than 500 kilowatt hours per month will pay higher increases.
The rate hike was $116 million less than SDG&E requested, the agency reported. The utility will be allowed $1.73 billion in revenue annually through 2015.
"Because regulators delayed a decision for nearly a year and a half, SDG&E now is required to start collecting 20 months of additional revenue that should have been collected starting in 2012," the company said in its statement. "These `catch-up' costs mean customers will see a larger bill impact than if the rates had been adjusted on schedule."
SDG&E also said, "Today's decision by state regulators will allow us to continue to operate our natural gas and electricity systems safely and reliably and to increase system efficiencies and customer benefits through technology enhancements."
Increases were also authorized for the Southern California Gas Company, which, like SDG&E, is a subsidiary of Sempra Energy.
A statement from the regulating agency said the increases will allow the utilities to maintain, replace, and improve aging infrastructure, and to operate their systems in a safe and reliable manner.
"Safety and reliability do not come free," said Commissioner Mark Ferron. "While we must do our best to contain costs, we do have to spend some more on safety and reliability."
The utilities will be required to invest $170.5 million in gas transmission and distribution integrity management systems, according to the CPUC. The agency recently recommended a record $2.25 billion fine for a natural gas explosion in 2010 in San Bruno, near San Francisco. Eight people died as a result of that explosion.
The CPUC said that if the utilities don't need to spend all $170.5 million, the savings will be returned to customers.
The commissioners established financial incentives to SDG&E to exceed target levels for electric reliability and monetary punishment if the utility falls short of the goals. They also voted to reduce authorized pension contributions by more than $15 million for SDG&E and by more than $32 million for SoCalGas.
County Supervisor Dianne Jacob, a bitter foe of the utility, also issued a statement, in which she said she was "disappointed that state regulators put the needs of the utility above the consumer."
"The bigger bills will not only hurt ratepayers, but are a reminder of SDG&E's stranglehold on the local energy market," Jacob said. "Consumers need more choices on where and how they get their energy so they're not at the mercy of the utility giant every time it wants to boost its bottom line."