This is an archived article and the information in the article may be outdated. Please look at the time stamp on the story to see when it was last updated.
SAN DIEGO — A teenage boy playing with a cigarette lighter sparked a several-acre brush fire next to Crawford High School Wednesday, prompting evacuations at the campus but causing no reported structural damage or injuries, authorities said.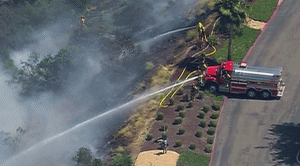 The blaze began spreading through the El Cerrito-area gorge near 54th Street and University Avenue shortly before 2 p.m., pushed by gusty winds out of the south, according to the San Diego Fire-Rescue Department.
Police directed everyone at the nearby secondary school — which was mostly vacant of students due to a shortened class schedule for the day — to clear out as a safety precaution, said Jack Brandais, spokesman for San Diego Unified School District.
Ground crews and personnel aboard a water-dropping helicopter had the roughly two-acre burn area fully contained within about 45 minutes, fire department information officer Maurice Luque said.
Police detained a 13-year-old who admitted that he had accidentally ignited the blaze, according to police. The youth could face a criminal charge or mandatory fire-safety counseling through the Burn Institute, Luque said.