This is an archived article and the information in the article may be outdated. Please look at the time stamp on the story to see when it was last updated.
SAN DIEGO — San Diego County Sheriff's Department officials said they are inundated with calls from citizens seeking gun permits and warn the waiting list to get an appointment is least a 6 months.
Over 1,600 people in the last few weeks, averaging 65 applicants a day, have contacted the San Diego Sheriff's Department requesting a concealed weapons permit. The number of applicants is more than double the department's average.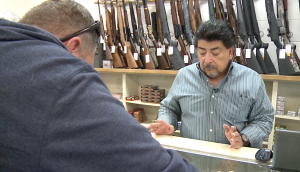 "It's been described as a Tsunami," said Sheriff's spokeswoman Jan Caldwell.
The surge immediately followed California's 9th Circuit Federal Appeals Court opinion last month, calling the state's "good cause" standard unconstitutional.
The court stated the law as it stands infringes the Second Amendment of the Constitution – the right of citizens to keep and bear arms – to be armed for self-defense purposes.
The San Diego Sheriff's Department is now joining law enforcement agencies across the state, easing their limits on weapon permits by accepting applications from those who want to get armed under their federal constitutional right, but not all applications will immediately be processed.
"We're going to process those that have good cause," said Caldwell.
Sheriff officials are anticipating the outcome of an appeal made by California's Attorney General, which could reverse the court's decision.