This is an archived article and the information in the article may be outdated. Please look at the time stamp on the story to see when it was last updated.
SAN DIEGO — San Diego city officials anonymously approved the hiring of an efficiency expert as part of interim Mayor Todd Gloria's plan to streamline operations at city hall, but the new hire has a controversial past.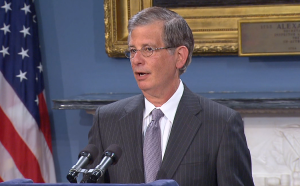 Stephen Goldsmith, no relation to City Attorney Jan Goldsmith, teaches government at Harvard and is known as an expert in privatizing city governments.
"Mr. Goldsmith is a nationally recognized expert of government efficiency. He is someone who shares my opinion that there is more than one way to become more efficient as a municipal government," said Gloria.
Goldsmith served two terms as Mayor of Indianapolis, America's 12 largest city, where he's said to have saved local government hundreds of millions of dollars in spending by cutting government services and selling those out to the private sector.
The republican's been praised by conservatives, but blasted by critics accusing him of granting public contracts to wealthy contributors to his mayoral campaign, according to an investigation by City Limits online magazine.
His measures are also reported to have resulted in hundreds of government worker layoffs.
More recently, Goldsmith served as Deputy Mayor of New York City, brought in by Mayor Michael Bloomberg to help him run the city more efficiently.
That didn't go as planned, he resigned 14 months into the job after being arrested for domestic violence, but was reportedly never criminally charged.
But even after stepping down, Bloomberg thanked Goldsmith for his cost saving advice, the same advice he will now bring to San Diego.
"What we need to do is ingrain within our city culture a desire to become more efficient each and every day," said Gloria. "We're going to use his expertise to help us become that type of organization."
Goldsmith will be paid $125,000 for his consulting services.