This is an archived article and the information in the article may be outdated. Please look at the time stamp on the story to see when it was last updated.
SAN DIEGO — Dozens of fast food workers in San Diego joined a nationwide protest Thursday asking the multi-billion dollar industry that employs them for what they say is a living wage.
Workers from 60 cities walked off the job calling on their employers to pay them minimum of $15 an hour and allow them to form unions.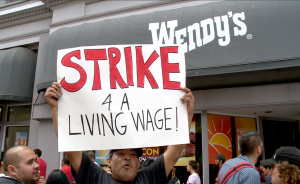 Across the country, the median pay for fast food workers is about $9 an hour equating to $18,500 a year.
National Restaurant Association spokeswoman Sue Hensley said there was misinformation swarming about the wages of most fast food employees.
"We welcome a national discussion on wages, but it should be based on facts," said Hensley, who represents many of the major fast food chains including McDonald's and Wendy's. "Only five percent of restaurant employees earn the minimum wage and those that do are predominantly working part-time, half are teenagers."
Labor rights advocates said the problem is many workers are hired to work part-time at the minimum wage and without benefits.
Debra Flores, 20, is a part-time employee at a Wendy's in downtown San Diego. She joined the protest outside the fast food establishment.
"There's nothing you can do with $8 an hour. We are asking for $15 an hour," said Flore, who has a daughter and a second job. "I'm trying to get more hours."
Many of the fast-food workers said they hope to take these protests even further, forming labor unions within the industry.