This is an archived article and the information in the article may be outdated. Please look at the time stamp on the story to see when it was last updated.
SAN DIEGO – After an "emotional" closed-session meeting, members of the San Diego County Democratic Party's Central Committee decided not to ask Mayor Bob Filner to resign amid sexual harassment allegations.
Chairwoman Francine Busby said a vote between members was divided 50/50.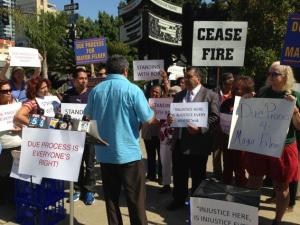 So far a formal complaint has not been filed. But Busby said if the allegations are proven true, "we will ask for his immediate resignation." Filner was invited to attend the meeting.
It didn't take long for the San Diego Republican Party to respond to the decision.
In a statement released shortly after the Committee meeting ended the Party wrote: "Democrats have failed to protect the women of San Diego that continue to be in danger of new harassment and retaliation for speaking up against unwanted sexual advances."
"By failing to act, Democrats have shown that they care more about preserving political power than standing up for women who have been victimized. San Diego deserves better," said Francis Barazza, Executive Director.
Meanwhile Filner supporters gathered outside City Hall Thursday to demand "due justice."
"We live in a world and a society where you're innocent until proven guilty," said David Valladolid, Community Activist.
Dozens of supporters held signs reading "Standing With Bob" and "Due Justice For Mayor Filner." They said they do not condone sexual harassment, but believe he has the right to the legal system.
"We are not condoning sexual harassment or any abuse of women, or men for that matter," said Maria Nieto Senor, San Diego Comm. College Trustee. "But we believe in a fair process to obtain the information that we need to be able to make a good informed decision as voters."
The supporters represented a variety of communities and they said Filner has been their voice for decades.
"For 40 plus years he has been at the forefront of working to better our communities across the board," said Valladolid.
Community Activist Enrique Morones organized Thursday's rally.
"These allegations come up. They should be turned into the police," said Morones. "There should be a regular procedure for these types of allegations. They're just allegations. As far as I know I don't know if they're facts or not."
If the allegations prove true the supporters said they would take action.
"I just don't believe that allegations alone is enough to ask him to leave city hall," said Kathleen Harman, San Diego resident.