This is an archived article and the information in the article may be outdated. Please look at the time stamp on the story to see when it was last updated.
SAN DIEGO – An organic "healing" garden for cancer patients at Scripps Health was dedicated Thursday in the memory of longtime San Diego broadcast journalist Loren Nancarrow.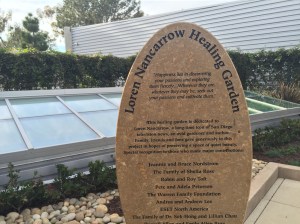 With the help of more than a thousand donors, the $500,000 outdoor garden area atop the Scripps Radiation Therapy Center was named the Loren Nancarrow Healing Garden. The garden includes benches, a tree and numerous plants and offers a place to comfort patients in an emotionally supportive environment.
Some cobalt blue flowers were planted in the garden in honor of Loren's favorite color.
During the dedication ceremony, Graham Nancarrow sang two songs he wrote for his father.
The two-story treatment center located at 10679 John J Hopkins Drive assists about 1,200 patients annually.
Loren was diagnosed with stage III brain cancer in Feburary 2013. His blog, "The Nancarrow Project" was a way of sharing his journey with thousands of friends and supporters and despite going through intensive chemotherapy; he always kept the same personality that viewers fell in love with.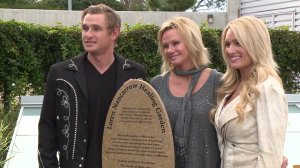 For more than 30 years, Loren Nancarrow educated and enlightened San Diego T.V. viewers with his vast knowledge of Earth and its climate on ABC 10 News, CBS 8 News, and more recently Fox 5 News.
Loren passed away on December 28, 2013 and is survived by his wife Susie and their three adult children.
"As for the question of what's on the other side – truth is, I don't know. But I believe that life is energy and energy can neither be created nor destroyed, it can only change forms. And whatever form I take on next, I just hope my connection to those I love will remain."- Loren
PREVIOUS STORIES:
Download Fox 5 iPhone app  |  Download Fox 5 Android app