This is an archived article and the information in the article may be outdated. Please look at the time stamp on the story to see when it was last updated.
SAN DIEGO, CA — Radioactive safety experts say the material inside a stolen truck found Wednesday near Mexico City, could've been highly dangerous if misused.
"A source that radioactive, could cause really serious exposures within minutes," said Scripps Radioactive security Dir. Stephen Steuterman.
"I think the unfortunate reality these days is these events are going to happen, it's just a matter of when," said Gary Fybel, Chief Executive at Scripps Memorial Hospital.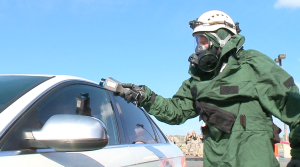 The material stolen Monday had safety officials in Mexico and at the U.S. border on alert.
As the situation developed Wednesday, hospital officials in San Diego and the National Guard were coincidentally taking part in a radioactive response exercise.
The scene was similar to an action thriller movie as two UH-60 Blackhawk military helicopters landed at Scripps Memorial Hospital in La Jolla.
Responders included 7 members of the National Guard who assessed the situation involving a vehicle with nuclear material inside along with an injured man.