This is an archived article and the information in the article may be outdated. Please look at the time stamp on the story to see when it was last updated.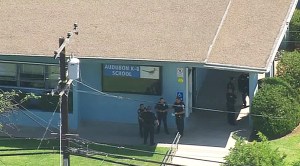 SAN DIEGO — Officials locked down Audubon K8 School in the Lomita neighborhood Thursday while police investigated reports of a drive-by shooting in the area.
Police received a report of shots fired from a red pickup at a home across the street from the school at about 1:30 p.m.,  a San Diego police spokesman said.  No one was injured and the pickup sped away from the neighborhood.
Students were kept in their classrooms at Audubon K8 School at 8111 San Vicente Street as a precaution during the investigation, the spokesman said.
The lockdown was lifted at 2 p.m.
Witnesses told police the shooter was in a red full-size truck with
landscaping equipment in its cargo bed.