This is an archived article and the information in the article may be outdated. Please look at the time stamp on the story to see when it was last updated.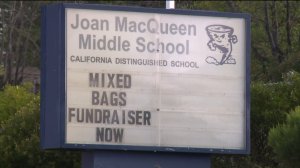 ALPINE, Calif.  — Students at an East County middle school were told to stay home Friday morning after deputies discovered a suspicious package on campus while investigating a possible burglary attempt.
Deputies were called to Joan MacQueen Middle School in Alpine early Friday after an alarm went off at the school. While investigating, they discovered a backpack against the front doors of the main school building at about 6 a.m. The pack did not appear to belong to a student.
School officials diverted students to Boulder Oaks Elementary school with their teachers while the Sheriff's bomb squad inspected the pack. They determined that it was not dangerous and cleared the school to reopen shortly after 8:30 a.m. Students and teachers were bused back to the school and the normal class schedule resumed.
Deputies found no evidence of a break-in at the school.