This is an archived article and the information in the article may be outdated. Please look at the time stamp on the story to see when it was last updated.
CHULA VISTA, Calif. — A man already jailed on unrelated charges was booked today on suspicion of trashing and torching a South Bay high school cafeteria during a Thanksgiving Day break-in.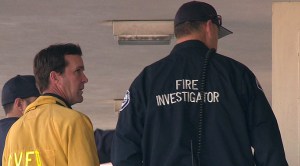 A surveillance camera captured images of an intruder using a skateboard to smash a window at the Chula Vista High School lunchroom on Nov. 28 before entering, dumping food and seasoning containers onto the floor and starting a fire, according to police.
During the 40-minute vandalism and arson spree, the man also turned off the electricity, ruining refrigerated food stocks, Capt. Lon Turner said. The total monetary losses were set at about $5,000.
Detectives recovered fingerprints at the crime scene, eventually leading them to identify jail inmate Azteco Frankie Soto, 26, as the suspected perpetrator.
Soto had been in custody since Dec. 2 in connection with a San Diego commercial break-in. He was re-booked this morning on additional charges of arson, burglary and vandalism, Turner said.