This is an archived article and the information in the article may be outdated. Please look at the time stamp on the story to see when it was last updated.
SANTEE, Calif. — A 13-year-old boy from Santee feels a strong connection with the U.S. Olympic gymnastics team.
The screen saver on JT Faust cell phone features a picture of him with Olympic overall bronze medalist Danell Leyva. He also has pictures with U.S. Olympians Jonathan Horton and Alex Naddour.
The 13-year-old's infatuation started eight years ago when he saw gymnastics for the first time while watching television.
"We started watching the Olympics and there was a gentleman in iron cross and so I quickly called for him to come up and watch," said Tesha Faust, JT's mom. "When he saw the gymnast he said, 'I'm going to do that,' and that was it."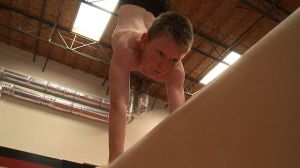 "I just thought it was really cool so I asked my mom if I could get started in gymnastics," JT said.
"From then on, he hounded me to sign him up for gymnastics," Tesha Faust said.
The Santee teen said he spends six days a week at Champion Gymnastics and Cheer in Santee, training for at least three hours a day and sacrificing fun for work.
"There are bumps along the road with wanting to hang out with your friends," JT said. "But you just have to be here a good amount of time if you want to go all the way."
For Faust, "all the way" means earning a spot on the 2020 Men's U.S. Olympic gymnastics team.
"I often have encouraged him to try other things and he's very clear with me that he is a gymnast," Tesha said. "That's his goal, and that he wants to go to the Olympics."
In May, JT competed in his first national meet at the United States Junior Olympics after qualifying at state by only three-tenths of a point.
"That was a large step in understanding that it's actually doable," said JJ Ross, JT's coach. "He was even surprised after he finished, and it was an expression on his face that can't be explained."
Faust said competing at nationals gave him confidence to advance even further.
"It just builds you up and it makes you feel like I can do anything now," Faust said.
Maybe in eight years, some young boy will show off a photo of himself, with J.T. Faust.