This is an archived article and the information in the article may be outdated. Please look at the time stamp on the story to see when it was last updated.
SAN DIEGO – San Diego police are searching for an armed man they believe is linked to a series of cab driver robberies in the Pacific Beach area.
Two cab drivers were robbed in Pacific Beach and Mission Beach around 1 a.m. Monday, police said.
An armed man approached one driver at 350 Missouri Street in Pacific Beach and took his wallet, keys and cell phone, police said.  Another driver was held up by a gunman 15 minutes later in Mission Beach.
SDPD said a third cab driver was robbed earlier in the week.  No injuries were reported and the robbery division is investigating.
"It's killing us, every day that passes," said Mikaiil Hussein, president of United Taxi Workers of San Diego.  "Last week, we had about four all together and now we have two more this weekend."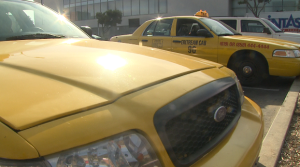 Hussein said statistically driving a taxi is the third most dangerous job in the United States.
"There are a lot of problems in the taxi industry, but this one is a major one.  Safety is number one," he said.
"Maybe they kill you, maybe they rob you," said Jama Ali, who has been a cab driver for five years in Pacific Beach. "It's not really a good job to do, it's really risky. There's no place that is safe for a cab driver."
Many taxi drivers in the union are pushing for the installation of cameras in cabs.
"We want some kind of protection for them," said Hussein.  "If the drivers,  they don't get protection I don't know who's going to serve this community."
"I think that is safer because it's recording so it may help," said Ali.
Until those cameras are installed, Ali's chosen to take the safer route.
"At night it's really more risky than day. So I quit driving at night and I move to driving day," said Ali.